The Migration Phenomenon Will Intensify In The Next Months.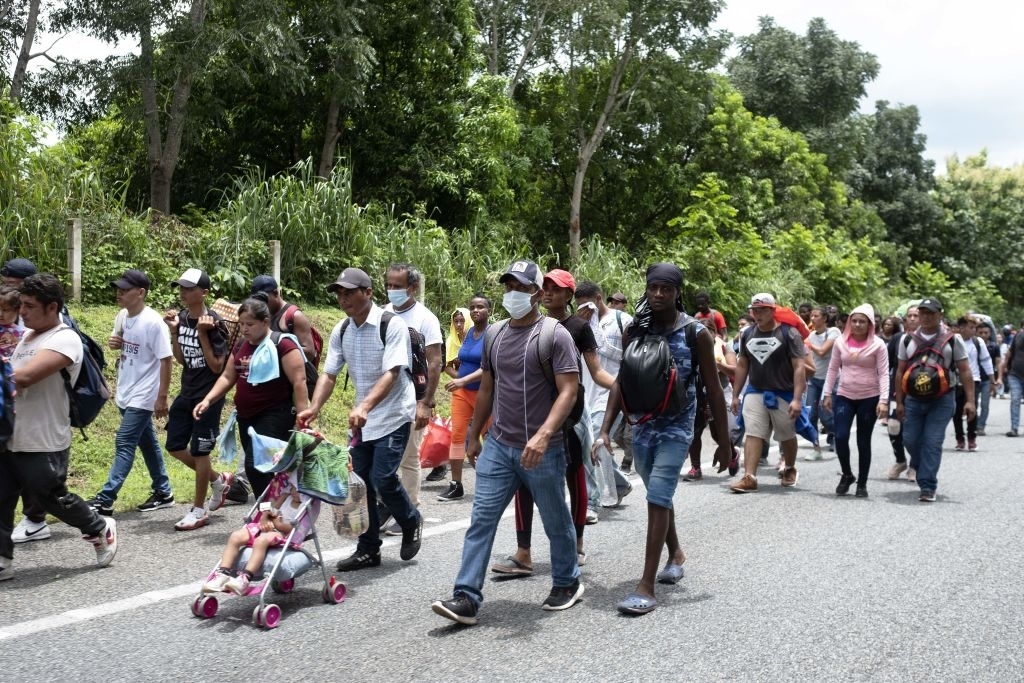 FSF-IHCE NGO's and CBS-Lifteam are launching a special training program for migrants in Latam Region – in Mexico in the goal to preserve the forest and the timber sector as a way of helping them to help themselves. The current organization "Formations Sans Frontières- International Health Care Education" is supported by Engineer Arnaud Maignant of CBS-Lifteam and Architect Sir Franck Brasselet from JAG Architecture.
Franck Brasselet from JAG Architecture, "Is the leading architect of tropical wood construction in French Guyana".
Here is the press release from CBS-Lifteam, together with the International NGO Formations Sans Frontières – International Health Care Education LATAM – CARAIBES – which has an office in Mexico.
Based in France, Lyon HQ, Geneva and Lausanne, the NGO Formations Sans Frontières – International Health Education (FSF-IHCE), presided over and founded by Thomas Baptiste-Weiss, is present on all continents and intervenes to support other operational NGOs in the field, notably through specific training in the fields of security, justice, demining, CBRN (nuclear, radiological, biological and chemical), cyber security, digital medicine, reproductive and sexual health, surgery, but also marine ecology, Architecture and Urbanism Department and now with CBS-Lifteam an ambitious project in Sustainable and responsible architecture woods construction.
CBS-Lifteam participates in this last module of the NGO FSF-IHCE, which gives its expertise to institutions, international organizations, NGOs, government institutions, and specific communities that express specific needs for all communities.
FSF-IHCE with CBS-Lifteam is currently helping to set up a global project for refugee camps, asylum seekers, incarcerated, deported and extremely precarious settlers on the northern border of Mexico.
The project carried out by the NGO FSF-IHCE LATAM, based in Mexico City, consists of training all the people from these migratory flows in trades. This ranges from sustainable forest management to building with local wood. In addition to training, the NGO actively involves refugee volunteers in the construction of basic infrastructure such as medical facilities, schools, shelters, prisons and offices for health workers and international staffs from national and international NGOs.
One of the objective from FSF-IHCE, under the responsibility of Raul Murillo Serano, Head of the office in Mexico, is to offer more dignity and serenity by trying to preserve the families by giving them the opportunity to live in peace and allowing them access to health care and offering them useful training.
These trainings are currently useful but also for the future of the beneficiary who will have an additional chance to reintegrate the job market when they leave the refugee camps.
According to Raul Murillo Serrano, Head of the FSF-IHCE office in Mexico City, nearly 160,000 people have tried to cross the border since the beginning of the year. Almost all of them are still stuck at the border pushing teenagers to go alone to the United States, where they are locked up in camps as soon as they arrive, before being sent back.
Extreme Poverty and Unsanitary Conditions in the Refugee Camps are Deplorable.
There is extreme poverty combined with the unsanitary conditions in the camps led by extreme violence, human trafficking, and recurrent accidents such as fires and global incidents in camps.
The Training and Educational Projects are Aimed at Several Targets:
The beneficiaries are the "affected populations" – village leaders, communities, men and women of working age who wish to receive training in the wood and construction sectors; carpentry, sustainable and fair economy.
Humanitarian workers with previous experience for project coordination, such as logisticians, engineers and social workers, etc.
At the time of writing, all stakeholders engaged in the sectors of activities that may need to be involved in the projects including government actors by province, corporations, schools, military and police.
All actors participating in these fields of operation may be required to participate in initiatives for the renovation of any wood-based infrastructure.
This training project, accompanied by the engineer Sir Arnaud Maignant from the CBS-Lifteam group and the architect Franck Brasselet from JAG Architecture, would enable these deprived populations to be trained in the trades, while at the same time helping to build infrastructure.
This wood self-building training project would also allow the refugees to project themselves into a promising future.
For the time being, everything is under the hands of the FSF-IHCE, which is responsible to convince the governments of the Mexican triangle (Guatemala, Honduras, El Salvador) to implement these trainings with the support of global donors and thus jointly help the South American and Mexican offices to strengthen them through training.
The implementation of strategic thinking with immediate actions will help the populations concerned by trying to develop a local and autonomous economy.
Author

Jonas Tophoven
jonas@nvbcom.fr
FSF-IHCE's Perspective on the Situation.
France has the resources to train people in forestry and woodworking, as well as, most notably, the EPUR Oakbot, a novel machining method for underprivileged communities. The method comes from Cyrille Hanappe in France, who works with nomadic groups and camps in the IDF..
Moreover, MSF (Doctor without Borders) the former urban planning delegate of Dominique Voynet's term of office in Montreuil, Lionel Vacca, the key man in the rise of the wood in this city, works all over the world in this perspective.
The good news is that in French Guiana, competence in the transformation of tropical wood for construction is highly established and widely known. But we may also consider whether it would be appropriate to do the same with our own migrants. Timber construction will never be able to become a dominating force until there is a large infusion of national and international labor forces for project completion.
Trainings for migrants in wood are important and can create new activities that can be extremely useful for everyone who is living and working in the refugee camps.
In Europe, we must persuade not just Mexico, but also Brussels and the international community. However, it is likely that things will proceed quicker in Mexico due to a human reality and a specific cause.